Georgia-Russia conflict shows EU's energy vulnerability
This week's offensive is the latest setback to plans for the Nabucco pipeline, designed to wean Europe off Russian energy giant Gazprom.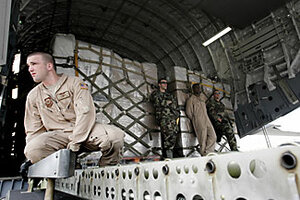 David Mdzinarishvili/Reuters
Russia's invasion of Georgian territory last week, in addition to reasserting Moscow's military strength, has complicated Europe's effort to diversify its oil and gas supplies away from the growing dominance of Kremlin-controlled energy giant Gazprom.
In the post-Soviet era, and particularly since 9/11, Central Asia has become a central focus for Western countries looking for more secure energy sources.
But this week's offensive, during which British Petroleum shut down an oil pipeline and temporarily stopped pumping gas through Georgia, has called into question plans for a Eurasian corridor free from Russian interference.
"The Caspian region is wondering what this means for the future," says Giorgi Vashakmadze, an energy executive in Georgia. "Russia is showing it controls this corridor."
The Russo-Georgian conflict is the latest in a series of setbacks for Europe's planned Nabucco pipeline – its best hope of weaning itself off Gazprom, which set off alarm bells by cutting crucial gas supplies to the continent in the winters of 2006 and 2008.
Hype surrounding Nabucco has grown more measured in recent months over concerns about the extent of available gas reserves.
---