To counter Russia, E.U. reaches out to Ukraine
Aid and outreach initiatives have been stepped up. But full EU membership will be slow coming say Ukrainians.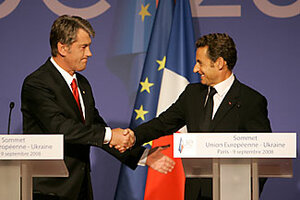 Michel Euler/AP
The European Union this week offered support to Ukraine, a crucial "buffer state" with a large Russian minority, considered by Moscow to be a heartland of Russian identity. As concern in Europe developed that Moscow's real signal in Georgia was to Ukraine, the EU gave Kiev a first step toward membership, importantly telling Moscow that it defines Ukraine as part of Europe.
The deal came amid strong internal EU debate about how far and how quickly to extend its reach to the Russian border. While East European states are pushing to bring Ukraine into the prized eurozone, there is strong sentiment in the union to wait until Ukraine and Russia find a more settled accommodation. This poses a problem for a state whose "Orange Revolution" separated it from Moscow.
According to a statement issued in Paris, Ukraine is recognized "as a European country that shares a common history and common values with the countries of the European Union."
---