Key question lingers: Who started the war in Georgia?
As EU monitors arrive, new details contradict Russia's assertion that Georgia invaded South Ossetia first.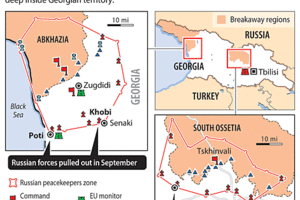 Reuters
Tskhinvali, South Ossetia; and Moscow
Who started the Russia-Georgia war?
Ask residents of this now battered Soviet-era provincial capital, you'll hear only one answer: Georgia.
Just hours after announcing a unilateral cease-fire on Aug. 7, Georgian President Mikheil Saakashvili ordered a massive artillery and armored assault aimed at restoring rebellious South Ossetia to Georgian rule.
"Thank God the Russians came in time," says Elena Khublova, who says she survived by hiding in a basement. "The Georgians were killing anybody who came into the street."
But new details contradict that version of events, according to a Russian investigative journalist. At the United Nations last week, Mr. Saakashvili also laid out a starkly different narrative, and pleaded for an impartial international investigation to gain "a clearer understanding of how this war started, and who started it."
Finding the answer is not merely an academic or historical exercise. Russian observers say the answer is critical to current global perceptions of a resurgent Russia. Is it a rational – if increasingly assertive – regional power protecting its flanks? Or is it reviving the international ambitions and military expansionism of the former USSR?
Much is also at stake for Saakashvili, who argued at the UN that "Georgia was attacked because it is a successful democracy," and who is asking the West to back his tiny Caucasus nation's drive to join NATO.
---