Will Britain's rescue plan work?
Prime Minister Brown unveiled an $87 billion plan Wednesday to buttress British banks. Hailed by some European leaders, credit markets responded tepidly.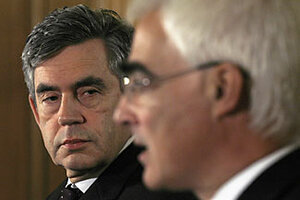 Luke McGregor/Reuters
A major British government bank-rescue plan, that bears some similarities to the American bailout, was greeted with tepid enthusiasm by European stock markets Wednesday.
The £50 billion ($87 billion) plan was announced just hours before a coordinated central bank cut in key interest rates around the world. Russia and several other European nations also took further steps to buttress their banks.
German deputy finance minister Joerg Asmussen hailed Britain's plan. "It contributes to the stability of the British financial system and we know what importance that has for the European financial system," he said Wednesday.
The unprecedented move by the British government means it may buy stakes in banks worth a total of £25 billion initially, rising to £50 billion if necessary. Britain's seven leading banks and one major building society have already signed up. Some will sell bigger stakes than others, depending on their individual needs.
The government will buy preference shares, meaning it will be first in line for dividends. Another £250 billion is being made available in lending guarantees. The institutions involved are Abbey, Barclays, HBOS, HSBC Bank plc, Lloyds TSB, Nationwide Building Society, Royal Bank of Scotland, and Standard Chartered. But Standard Chartered and Nationwide indicated that they did not need to raise new capital.
---