Another Northern Ireland shooting: A return to the 'Troubles?'
Irish politicians from all sides reject any backsliding toward violence.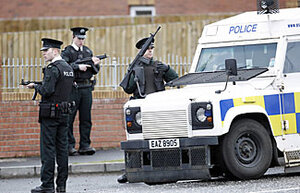 Peter Morrison/AP
A third shooting death in three days in Northern Ireland is raising concern that a decade-old peace accord could come unglued, returning the country to the "Troubles."
The latest killing was of an on-duty police officer. Constable Stephen Paul Carroll was fatally shot Monday evening. Dissident republicans, the Continuity Irish Republican Army (CIRA), have claimed responsibility.
The incident in the County Armagh town of Craigavon, 28 miles from Belfast, follows the killing of two British Army soldiers over the weekend by another shadowy dissident group, the Real IRA (RIRA), at an Army base also in County Antrim.
Police carried out a series of raids Tuesday in the area where the police officer was shot. A young man has been arrested in connection with the latest incident, but law officers have revealed few additional details.
Cengiz Azimkar and Mark Quinsey, the two soldiers killed in the attack at Massereene barracks, were due to be deployed to Afghanistan. The killings marked the first attack on British forces since 1997.
Irish officials are calling for help – and for peace.
---