Can Obama envoy George Mitchell kick-start Mideast peace?
Colleagues ask: If the former Northern Ireland peacemaker can't do it, who can?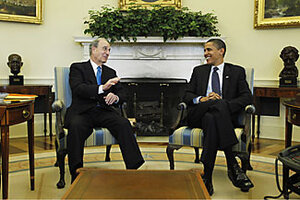 Charles Dharapak/AP
Few people can kick off a résumé like this: "1995-99: solved one of the world's most durable and intractable conflicts."
So when President Obama and Secretary of State Hillary Clinton were casting around for a peace envoy for the Middle East, George Mitchell was the obvious choice.
Who better to deploy than someone experienced in the tortuous dealmaking that defused a comparable crisis and steered Northern Ireland toward a (sometimes frosty) civility?
Mr. Mitchell, a former US senator, was renowned in Northern Ireland for his patience, doggedness, pragmatism, willingness to listen, determination to get things done, and knack of leaving his own ego at the door.
The envoy – who returned last week from his first trip to the Middle East as Mr. Obama's envoy – is only too aware that his experiences in the British province will only take him so far. The Israeli-Palestinian conflict is a lot further from reconciliation than Ulster was in the mid 1990s. Even at its worst, Belfast never looked like Gaza City. But those who know him or have worked with him say his personal qualities suit him for the role of honest broker.
---