Mitchell gets earful from Mideast
The din of Gaza followed Obama's Middle East envoy, George Mitchell, as he conducted a listening tour. Arab leaders wonder why their peace plan remains untouched.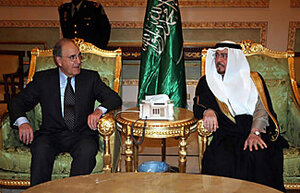 SAUDI PRESS AGENCY/REUTERS
Winding up his week-long tour of the region, President Barack Obama's Middle East envoy, George Mitchell, met Saudi officials here over the weekend for an exchange of ideas on ending the volatile Israeli-Palestinian conflict.
Mr. Mitchell conferred with Saudi Foreign Minister Prince Saud bin Faisal Saturday night and met with King Abdullah bin Abdul Aziz Sunday.
Specifically, the talks were said to cover the Saudi-initiated Arab Peace Initiative – first offered to Israel in 2002 – as well as how to counter what many Arab states regard as an alarming development: The increased involvement of Iran in Palestinian affairs, through its partners, Syria and Hamas.
"Something needs to be done about Syria, Iran, and Hamas," said one Saudi source. "They believe that by doing what they're doing it's going ... to put them on top.… [We need] to counter it once and for all."
Arab officials and commentators have praised Obama's initial moves to improve US relations with the Muslim world. But Mitchell is no doubt discovering that there is also a deep well of skepticism that the new US president will succeed in breaking the deadly impasse on the Israeli-Palestinian conflict.
---
Follow Stories Like This
Get the Monitor stories you care about delivered to your inbox.