Europe and the US attempt to mend fences, but deep rifts remain
Ahead of the G-20 summit, Spain decides to withdraw troops from Kosovo and investigate Bush officials for torture.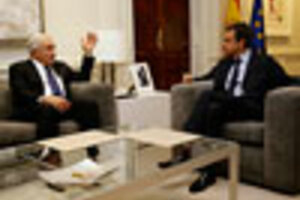 Andrea Comas/Reuters
Europe's love affair with President Obama is not over, but the honeymoon seems to be.
As the president arrives in London today at the start of his first transatlantic trip, he will be welcomed by a continent that's eager to refresh its relationship with the United States. But the US and Europe are not on the same page in several key areas.
There are fundamental differences in approaches to correcting the world's economic woes – the Czech Premier Mirek Topolanek, speaking as head of the rotating European Union presidency, said last week that Obama's economic recovery plans were "a way to hell." Europe and the US remain divided over Afghanistan.
And perhaps the starkest example of lingering US-Europe divisions comes out of Spain.
---