Unlike the US, Germany unlikely to bail out automaker
Merkel, in visit to headquarters of GM's Opel unit, says that direct aid is unlikely.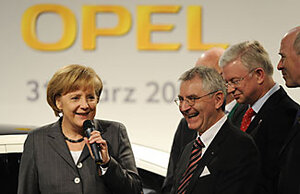 Kai Pfaffenbach/Reuters
When the survival of embattled carmaker Opel – and that of his town – are at stake, Roman Catholic priest Balthasar Blumers has no qualms about crossing the lines between religion and politics.
"People are at the center of our system, and every one of them is equal in value," the cleric said Saturday, as he led hundreds of residents on a solidarity march with the company ahead of Chancellor Angela Merkel's visit to the flagship Opel plant.
Just days earlier, Ms. Merkel, backed by her economy minister, had said the company should not expect special treatment, as it wasn't "system relevant."
But on Tuesday, Merkel told 3,000 Opel employees that her government would help secure the company's future by providing potential investors with loan guarantees. Opel, which is owned by troubled General Motors, has said it needs €3.3 billion ($4.5 billion) to avoid bankruptcy under a plan that foresees more autonomy from Detroit and prevents aid money from flowing to Detroit.
Under pressure not to intervene from the conservative wing of her party, Merkel ruled out having the state take a direct stake in Opel. "We must try to do everything to find an investor who, of course with state support ... builds a long-term foundation and who believes in Opel," Merkel said. "For all that the state can do, it never was the best entrepreneur."
But Vice Chancellor Frank-Walter Steinmeier, Merkel's Social Democrat rival, called for direct participation. At stake, he said, was the future of a German icon.
---