At G-20, leaders look to save economy – and their own jobs
The global crisis has led to political upheaval in many countries, unseating three prime ministers in Europe alone.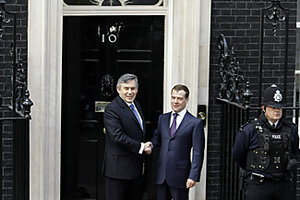 Matt Dunham/AP
World leaders embarking on the latest round of financial summitry in London this week are not just trying to save the world economy. Some of them are also trying to save their own skins.
On Wednesday, US President Barack Obama emphasized the seriousness of the economic crisis, saying, "All of us here in London have a responsibility to act with a sense of urgency. Make no mistake: we are facing the most severe economic crisis since World War II."
But another crisis of sorts was brewing at the summit, as French President Nicolas Sarkozy – who earlier threatened to walk out – and his German counterpart Angela Merkel took a firm stand against US proposals for more stimulus packages.
At stake for all the leaders is their political standing amid a recession. As the past six months has shown, recessions threaten social unrest, electoral upheaval, and even challenges to the state itself. Former US President Bill Clinton put it most succinctly with his immortal, "It's the economy, stupid." His predecessor George H. W. Bush was neither the first nor last incumbent to slide from office on a downward graph.
---