The pain in Spain: On May Day, nearly 1 in 5 are jobless, but few seem angry
In Madrid, the workers' day was marked by samba dances, not brick-throwing.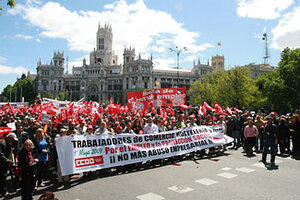 Patricia Cinta
As most of the world observes May Day amid the worst recession since the Great Depression, perhaps Spanish workers have the most to protest and worry about.
Unemployment here has nearly doubled over the past year to 17 percent – the highest in the European Union and double that of the United States. The economy is shrinking at its fastest rate in 50 years.
Conditions are expected to worsen, yet there's little indication that Spain will be plagued by the social unrest that's heating up elsewhere in Europe.
The governments of Hungary, Latvia, and Iceland have already collapsed after angry protests over the handling of the economy; France has thrice been disrupted as millions staged nationwide strikes. And demonstrations – sometimes turning to riots – in Greece, Ireland, Britain, and several Eastern European countries have reminded the continent of the violent class struggles of past century.
---