Will Nabucco pipeline deal free Europe from Russian gas?
The EU and Turkey signed a $11 billion gas pipeline deal that should give Europe more supply options.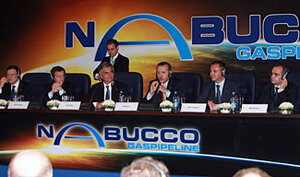 Burhan Ozbilici/AP
It's being called a milestone for energy-hungry Europe.
Today's European Union-Turkey deal to begin building the 2,000-mile Nabucco gas pipeline from the Caspian Sea to Austria – reducing Europe's dependency on Russia – means investors can legally move on a project that has been much more talked about than acted on since 2002.
But many milestones remain in the great geopolitical game over energy from the Caucasus and Central Asia – many involving the Russian bear.
"We are determined to make the Nabucco pipeline a reality as quickly as possible," said José Manuel Barroso, head of the European Commission, staking out a tough position. Last week, Russian national energy security fund chief Konstantin Simonov pooh-poohed the deal, calling it "only a piece of paper."
After a brutally cold winter in which much of the Balkans and southern Europe faced freezing cities and homes due to a Russia-Ukraine gas and politics dispute, the EU has been under pressure to act on its members' behalf.
---