Who is really running Russia?
President Medvedev is likened to a general without an army, with most top posts held by Putin's people. But there are signs he's pushing back.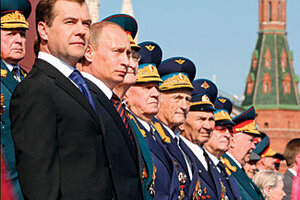 Ria Novosti/AP
On his recent visit here, President Obama mistakenly referred to Russia's No. 2 as "President Putin."
He brushed it off, noting that Prime Minister Vladimir Putin formerly held the country's top post – which he did, before paving the way for protégé Dmitry Medvedev's election in March last year.
If Putin's title trips up a world leader here and there, pinpointing his exact role confounds nearly everyone.
Amid the worst economic bad news in over a decade, the question of just how Russia is being led – and where – has become the subject of heated debate among the country's political class.
Some experts say it's a stage-managed Kremlin theater production, a "good cop, bad cop" act designed to keep the opposition off-guard and the public guessing.
Others suggest that President Medvedev, a savvy lawyer fond of Led Zeppelin, may be breaking away from the tutelage of his predecessor and challenging the harsher aspects of the Putin era.
A May poll by the independent Levada Center in Moscow found that 19 percent of Russians believe that Medvedev "pursues an independent policy," while 68 percent think he acts entirely "under the control of Putin and [his] entourage."
---