Mallorca target of Spain's second attack in two days
Two policemen were killed, prompting Spain to briefly seal off its largest island. ETA separatists are key suspects, though the attackers are still not known.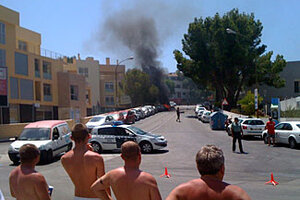 Pablo Navarrete/REUTERS
After a terrorist bombing by suspected Basque separatists killed two Spanish police officers on the holiday island of Mallorca on Thursday afternoon, the Spanish authorities took the unusual step of shutting the island's airport and ship terminals, effectively sealing off the island from the outside world for a few hours.
It was the second terrorist attack in 24 hours in Spain, following a car-bombing at a housing complex for soldiers and their families in Burgos yesterday that injured more than 60 but killed no one.
That attack, like this one, was immediately blamed by the authorities on ETA, a Basque separatist group that has fought the Spanish state off and on for 50 years.
Some in Spain are worried that ETA, which has had dozens of operatives arrested in recent years and has lost support within Spain's Basque population, are ramping up their use of violence to maintain their political relevance (see this story for analysis.)
If the attack is confirmed as having been carried out by ETA, it would be the first time they've successfully claimed victims on Mallorca. The group carried out two bombings on the island 18 years ago that didn't generate casualties – and has also had plots to assassinate King Juan Carlos there foiled.
The two policemen died when a bomb stuck to their SUV exploded at about 2 p.m. local time in front of a police station in Palmanova, a popular tourist destination and just a few miles from the palace where the Spanish royal family spends its summer vacation.
Security forces believe the bomb was remotely activated by the attackers. Two high-rise hotels near the blast, the Palma Nova and Palmanova Palace, were evacuated as a precaution. A second bomb under another vehicle was deactivated by police hours later.
---