A year after war, Georgia and Russia point fingers over provocations
Tensions are spiking again, creating concerns about another conflict.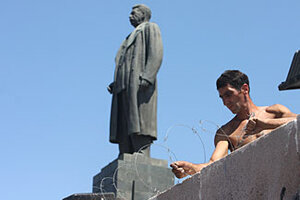 George Abdaladze/AP
As Russia and Georgia grimly observe the first anniversary of their destructive war last summer, tensions are spiking between the two, creating concerns that another war is possible.
Last year's war broke out after Georgian forces assaulted the breakaway statelet of South Ossetia, a de facto Russian protectorate, and were repelled by Russian tanks. The central dispute between the two has never been resolved, and there have been reports of Russian and Georgian troops taking potshots at one another along the border and belligerent words from both sides.
Though few expect any repeat of last summer's destructive blitzkrieg-like conflict, neither side has been taking any chances this year.
Russia reportedly "beefed up" its forces along the troubled cease-fire line this week, and a top Foreign Ministry official warned of unspecified "Georgian provocations" aimed at stoking anniversary tensions. Russia claims that the US and former Soviet states like Ukraine are rearming Georgia for another attempt to seize South Ossetia and its fellow breakaway republic, Abkhazia.
"It is highly regrettable that the Americans are going to pump up Mikhael Saakashvili's military machine. That's a strange way to support democracy," Russian State Secretary, Grigory Karasin, told journalists this week.
---