After the Berlin Wall, nostalgia for communism creeps back
Twenty years after the fall of the Berlin Wall, some in Eastern Europe miss the days of full employment and before free elections brought extremism.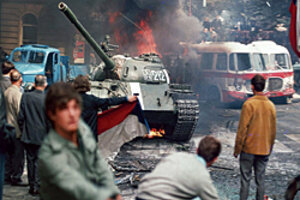 AFP/Getty images/Newscom/File
prague, czech republic; AND partizÁnske, slovakia
In the airy lobby of the Institute for the Study of Totalitarian Regimes, George Santayana's immortal words are a daily reminder to Czech staffers digitizing millions of Communist-era files: "Those who cannot remember the past are condemned to repeat it."
Yet even the institute's spokesman says his grandparents criticize the organization's mission. They brush aside four decades of neighbors and co-workers spying on one another in the former Czechoslovakia and long wistfully for a time of full employment.
"My grandmother says the Com­munists were great, while my grandfather says we're stupid to open the archives, because people don't have jobs, which is more important than ... history," says Jiri Reichl.
On the anniversary of the fall of the Berlin Wall, Germans and others across the world are celebrating the moment that clinched the end of the cold war. But the Czech Republic reflects another trend across Eastern Europe, 20 years into the traumatic shift from dictatorship to democracy: creeping nostalgia.
Cold Wars end brought harsh competition
Each positive development of "democracy" ushered in negative consequences: Free-market competition brought soaring prices and joblessness; free elections brought extremist parties; free press brought incitement; free movement brought cross-border crime and westward "brain drain."
This nostalgia is born of deep disillusionment with the present, says Libuse Valentova, a Czech professor.
"People here admired the freedom and prosperity of the Western world," says Ms. Valentova, who tears up when recalling her time in the streets during the 1968 anti-Soviet revolt. "Now what they see is materialism, corruption, inflation, lawlessness – and they can't find spiritual or material prosperity."
---