German children: What do they know about the Berlin Wall?
Amid celebrations of the fall of the Berlin Wall, Germans have been stunned by a study showing deep disparities in what kids know about their country's recent history. Much depends on where they live.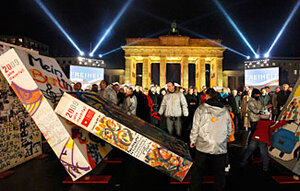 Fabrizio Bensch/Reuters
Yesterday, Marlene Muehlmann saw the Berlin Wall tumble down.
Along with tens of thousands of young people from around the world, she decorated one of 1,000 giant dominoes erected along the strip that once divided East and West Germany and then toppled to commemorate the end of the cold war.
"I knew everything already, how the border was," says Marlene, a 9th-grader who lives in Berlin's Prenzlauer Berg, not far from where the wall was. "The parents in half the class had something to do with it." She knew that her mother had been barred from taking her high school exam because of her parents' church activities. She knew, too, that her friend's grandfather was put in jail when he tried to escape, only to be denounced by a friend. [Editor's note: The original misstated how her mother left East Germany.]
"It's something everybody should know about so we can treasure what we have," says Marlene, who attends Berlin's Schliemann-Gymnasium. "So that if it happens again, we know what to do."
In the Black Forest village of Ichenheim, near the French border, Tobias Geiser knew little of his country's eastern half until his teacher sent him on a historical scavenger hunt. After months of interviews, he and fellow students built a Trivial Pursuit of sorts about the German Democratic Republic's (GDR) history.
His verdict? "The wall still exists in people's heads," says Tobias, whose project won third place in a national history competition "We hope that that can happen if the economy in the east improves."
---