Amanda Knox conviction: Italy strikes back at US complaints
US student Amanda Knox's conviction for the murder of her roommate in Italy, has sparked some complaints of an unfair trial. Prosecutors and the Italian press are striking back.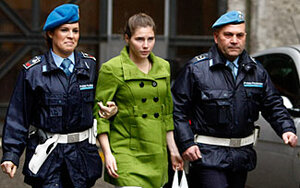 Pier Paolo Cito/AP
Italian judges angrily hit back Monday at American accusations that the 26-year prison sentence for college student Amanda Knox for the murder of her British flatmate was based on flawed evidence, a botched investigation, and a coerced confession.
The chief prosecutor in the case, whose call for Ms. Knox and an Italian man to be sentenced to life in prison was rejected by a jury in the Umbrian hill town of Perugia, said US criticism of the 11-month murder trial was unfair and unfounded.
American skepticism over the fairness of the trial has hurt Italian national pride, with the country's leading daily newspaper, Corriere della Sera, commenting: "The (US) administration cannot close Guantanamo, yet it finds the time to think about Perugia." (The US State Department has not commented on the verdict.)
Knox, from Seattle and her former boyfriend, computer science graduate Raffaele Sollecito, were found guilty Friday of sexually assaulting and murdering Meredith Kercher, who was on a year's exchange course from Leeds University in northern England when she was murdered on Nov. 1, 2007.
---