Obama cracks the whip at Copenhagen global warming talks
At Copenhagen global warming talks, President Obama urged heads of state to agree on a new pact this weekend and move beyond 'the same stale arguments' that countries have rehashed for 20 years.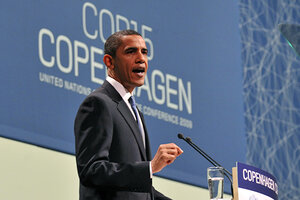 AFP/Newscom
President Obama cracked the whip today in a brief speech to heads of state gathered in Copenhagen, urging them to throw their political support behind the need to get a new global warming deal here before the clock runs out this weekend.
Lack of an agreement on a new climate pact in Copenhagen will not prevent the United States from moving forward on its own to chart a greener energy path and reduce greenhouse-gas emissions, he said. But he also noted that for 20 years, countries have rehashed "the same stale arguments month after month, year after year – all while the danger of climate change grows until it is irreversible."
"As the world watches, our ability to take collective action is in doubt right now and hangs in the balance," he said. "I've come here to act."
The tenor of his comments highlights the tense, fragile negotiations on two intertwined tracks of talks here that were still under way while he was speaking.
In US, sliding ratings for Obama's actions on climate change
Beyond the immediate audience in the plenary hall, the president also appeared to signal his resolve to deal with the climate issue to folks back home.
---