Senior Blair aide defends UK case for Iraq war at Chilcot Inquiry
The Chilcot Inquiry into former British Prime Minister Tony Blair's decision to invade Iraq heard from Alastair Campbell, its most senior witness so far. Mr. Campbell has been at the center of allegations that intelligence was distorted to make Saddam Hussein appear a greater threat than he was.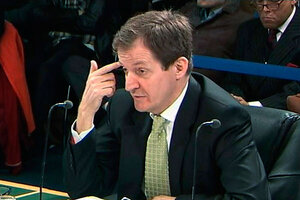 UKBP Via Reuters TV / Reuters
Tony Blair's former spin doctor-in-chief delivered a typically defiant performance at a key session of Britain's inquiry into the Iraq war on Tuesday, defending his role in preparing an infamous document that was used to justify the invasion.
Alastair Campbell – whose rottweiler-like approach to media critics of the government became the stuff of journalistic lore – denied that he "sexed up" a 2002 intelligence document claiming Iraq could launch weapons of mass destruction within 45 minutes in order to exaggerate the case for war.
The independent probe into the decisions that led up to the 2003 invasion is now in its third month of hearings. The many commentators who have doubted the backbone of the committee have said they are vindicated by what they see as the limp questioning of witnesses.
The six-person panel's supposed impotence was also contrasted Tuesday with the findings of a high-powered inquiry in the Netherlands, which found that the Dutch government's support for an invasion of Iraq had no legal backing.
The Dutch inquiry also found that the then-government did not fully inform Parliament about its plans in the run-up to the conflict. Expectations that the British inquiry will be quite as excoriating of the Blair government are low.
---