Before London Afghanistan conference, hope for Taliban deals
The US and its NATO allies are moving toward a fund to encourage Taliban members to lay down their arms and work with the Afghanistan government in Kabul. Hamid Karzai is hopeful ahead Thursday's London conference.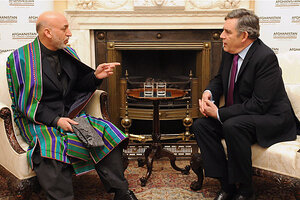 Stefan Rousseau/AP
Ahead of an Afghanistan conference designed to offer a "clear" policy among 70 nations on the nine-year war, a less clear but new and significant initiative is on the rise: Try what US forces did in Iraq -- buy off the opposition, or Taliban, with cash and incentives.
The plan, a major shift in war policy, and one being presented by Afghan president Hamid Karzai, would suss out ordinary soldiers fighting with less conviction or loyalty to Taliban leader Mullah Omar -- from true ideological jihadis and Al Qaeda loyalists. While viewed skeptically by some analysts, the plan focuses on the country boys, the $10 a day rank-and-file rural Taliban, who may have joined to get a gun and some pay, and promise them a better life and a cash reward.
It's called "reintegration" in Western policy circles. President Karzai calls it "national reconciliation," and he is expected to showcase the strategy Thursday in London, with strong agreement by figures ranging from Defense Secretary Robert Gates to Commander of US forces in Afghanistan Gen. Stanley McChrystal.
---