At London Afghanistan conference, a developing script of withdrawal
The leaders of Afghanistan and 70 nations involved in the war and aid efforts there gathered in London on Thursday. New funds were promised for Afghanistan, but crafting a withdrawal strategy was a key part of the agenda.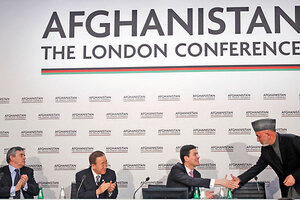 Matt Dunham/Reuters
Some 70 nations raised $140 million Thursday as part of a focused, momentum-building effort to aid the government of Afghanistan President Hamid Karzai. But clear signals were also delivered that the US and its NATO allies are crafting a departure strategy and determined to transfer security responsibility to Kabul within five years.
Mr. Karzai and top officials from the US-led NATO coalition in Afghanistan were gathered in London for a conference on the future of Afghanistan. The London Conference's final communique made it clear that an eventual pullout was on almost everyone's mind.
Some $300 million to $500 million was informally agreed upon for a new "trust fund" to reconcile Taliban soldiers not linked to Al Qaeda or militant ideology; $1.6 billion in debt relief was announced, and $870 million in humanitarian aid appealed for. Delegates agreed to ongoing efforts to battle terror, train police and the Army, and align a military surge with what British Foreign Minister David Miliband called a "civilian" surge to reach Afghan hearts and minds.
---