EU promises help for Greece, but euro falls in absence of bailout
European Union (EU) leaders promised on Thursday that they stand waiting to help debt-laden Greece, if needed. But the euro declined as investors worried about the lack of a clear commitment to a bailout package.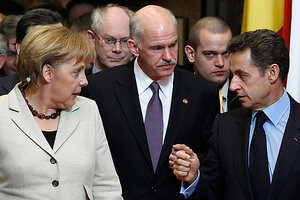 Yves Herman/Reuters
Arguing in the midst of a eurozone crisis that troubled Greece has not asked to be bailed out, EU leaders stood together today to say that the "Europeans pledged to help out Greece – if needed." They settled on a ready-to-jump-in strategy to back the southern state – if markets are not reassured and if the euro falls further.
The euro, which has weakened against the dollar since the end of last year on concerns that Greece's debt problems could spread, fell in afternoon trading with investors disappointed that a clear bailout package for Greece did not emerge from the meeting.
The comments after EU heads of state met in Brussels is seen as something of a halfway strategy -- designed to buy time and stave off perceptions of disarray in the eurozone, including a possible humiliating IMF bailout of Greece.
---