Pope Benedict scolds Ireland's bishops over sex abuse scandal
In an unprecedented move, Pope Benedict XVI summoned all 24 of Ireland's bishops to the Vatican to discuss the fallout from two reports that Catholic priests in Ireland sexually abused children for decades and that church officials covered up the behavior.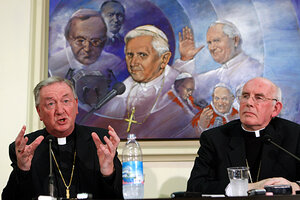 Alessandra Tarantino/AP
All 24 of Ireland's serving Roman Catholic bishops were hauled in front of the pope to be told that the sexual abuse of children was a "heinous crime," in what Vatican experts said was an unprecedented attempt to deal with a sexual abuse crisis that has roiled the church establishment.
The bishops were called to Rome for a two-day summit with Benedict XVI on Monday and Tuesday to discuss a scandal that has shaken once staunchly Catholic Ireland to its core – with recent revelations that for decades priests and other clergy sexually abused children while church and police officials sometimes looked the other way.
The Church's covering up the sexual abuse of children had caused a "grave crisis" that had led to "a breakdown in trust in the Church's leadership," the pontiff told the bishops.
In unusually forthright language, he told the bishops that the sexual abuse of children was a "grave sin."
He called on them to work hard to restore "spiritual and moral credibility" in the wake of two reports released last year which documented abuse and cover-ups in church-run schools, workhouses, and orphanages over 50 years.
---