As Athens protests, Germany scoffs over Greece debt bailout
Protesters took to the streets of Athens on Thursday over government austerity measures. But anger is also growing in Germany at being asked to finance the Greece debt bailout.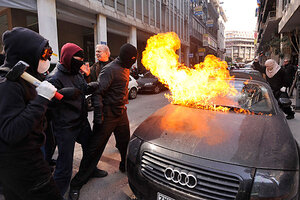 Nikolas Giakoumidis/AP
More than 20,000 Greeks took to the streets of Athens on Thursday to protest planned government spending cuts to ease the Greece debt crisis.
Protestors fought with riot police, smashed storefront windows, and set fire to cars and buses as law enforcement authorities responded with tear gas and stun grenades. Such protests have occurred regularly in recent weeks over the government's cost-cutting measures in response to Greece's ballooning national debt. Austerity steps taken so far include raising the retirement age from 63 to 65 and lowering government workers' wages 8 percent.
Anti-German sentiment has tinged the protests, since the European Union's wealthiest nation has hesitated to finance a bailout for its southeastern neighbor. Greece was further inflamed when two German legislators suggested Greece sell some of its islands to pay off its debt, and one newspaper even suggested they sell the Acropolis.
IN PICTURES: Top 10 things Greece can sell to pay off its debt
Tensions eased last week when German Chancellor Angela Merkel met with Greek Prime Minister George Papandreou. She said the two reached "an understanding," though their truce did little to quell anger on both sides of the aisle.
---