Man bytes dog: microchipping bid brings UK outcry
A UK proposal for mandatory microchipping of dogs has renewed charges of an overactive nanny state. But postal workers and people whose neighbors have aggressive ' dogs like the idea.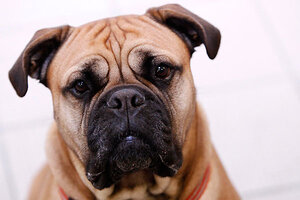 Suzanne Plunkett/Reuters
Intensely proud of their self-styled image as a nation of dog-lovers, Britons are chewing over radical government proposals to embed microchips in every canine in England and Wales.

Six million dogs would be tagged so owners could be traced as part of the proposed crackdown against those who use dangerous animals as a weapon to intimidate others. Third-party insurance would also become compulsory so victims of dog attacks could be compensated.

But in a country where a backlash is already growing against the perceived growth of a nanny state, with extensive closed-circuit camera surveillance of public areas and the world's largest (per capita) police DNA database, right-wing politicians and their allies in the media have claimed the plan would backfire by penalizing law-abiding families and creating a vast bureaucracy of enforcement officers, scanners to check pets for microchips, and pounds for seized animals.
Unsurprisingly, postal workers warmly welcomed the proposals after they were unveiled by the Home Secretary, Alan Johnson, himself a twice-bitten former "postie."
---