Pope letter on Catholic sex abuse scandal meets Irish skepticism
In Ireland, news that Pope Benedict is sending a letter on the Catholic sex abuse scandal was met by disagreement over whether the church can regain its moral authority. The letter will be made public Saturday.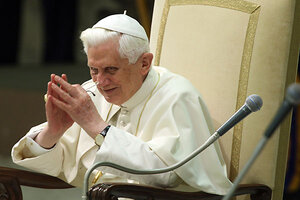 Alessandra Tarantino/AP/File
Pope Benedict XVI has written a pastoral letter to Irish Roman Catholics on the issue of preventing and punishing sexual abuse of children by priests – but opinion here is divided on whether the church can ever regain its moral authority.
The papal letter, expected later today, follows a series of accusatory Irish government reports last year into pedophilia within the Irish Roman Catholic Church.
Pope Benedict says he hopes the communication, to be made public Saturday, "will help in the process of repentance, healing, and renewal."
Garry O'Sullivan, editor of the Irish Catholic, a weekly newspaper independent of the church, says if it is to have any impact at all, the letter needs to address the church's culpability.
"The hope is it will have a fulsome apology. The victims want the pope to make a proper admission of a systemic cover-up, not just minimize it as a few problems," he says.
Cardinal embroiled in scandal over priest
The letter comes as Cardinal Sean Brady, head of the Irish Church, finds himself embroiled in a scandal surrounding the late Rev. Brendan Smyth. Father Smyth abused children from the 1940s onward, and was moved from parish to parish, including a stint in the United States, which was when the church became aware of it.
In 1975, Cardinal Brady, then a priest, was present when two of Smyth's victims were asked to sign an oath of secrecy. Brady did not inform the statutory authorities.
---
Follow Stories Like This
Get the Monitor stories you care about delivered to your inbox.