US Russia nuclear deal worries some in Moscow
A US Russia nuclear deal on reducing their arsenals has received global praise. But some in Russia worry that President Medvedev may have allowed too much leeway for the US to develop missile defense systems.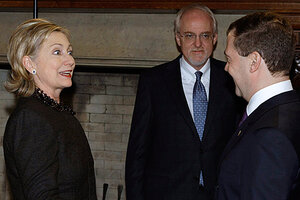 Vladimir Rodionov/Kremlin/RIA Novosti/Reuters
A sweeping new bargain to slash the offensive nuclear arsenals of Russia and the US – what they used to call the "balance of terror" – appears almost ready for Presidents Dmitry Medvedev and Barack Obama to sign.
Unofficial sources say the signing may take place as early as April 8, in Prague, Czech Republic, the venerable eastern European capital in which Mr. Obama launched his campaign for a nuclear weapons-free world just one year ago.
Experts say the new agreement, designed to replace the 1991 Strategic Arms Reduction Treaty, will reduce strategic nuclear warheads by one-quarter, to around 1,600 on each side, and halve the number of delivery vehicles – missiles, bombers, and submarines – to 800 for each country.
The US currently has deployed around 2,150 strategic nuclear weapons; Russia reportedly maintains about 2,600. Both sides have thousands more in storage or awaiting dismantlement under previous arms control deals.
---