Obama and Medvedev step closer to nuclear weapons-free world
A phone call today between Barack Obama and Dmitri Medvedev sealed the deal for the US and Russia to reduce strategic nuclear weapons by almost one-third and to halve the number of delivery vehicles, such as missiles and bombers.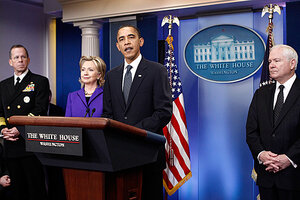 Kevin Lamarque/Reuters
It's official. The first big post cold war strategic arms control treaty will be signed on April 8, in Prague, Czech Republic, where a year ago President Barack Obama opened his campaign for a nuclear weapons-free world, amid surging hopes that the US-Russian example will lead to fresh progress in limiting the spread of atomic weapons and encouraging other nuclear-armed states to reduce their arsenals.
"Since taking office, one of my highest national security priorities has been addressing the threat posed to the American people by nuclear weapons," Mr. Obama told a White House briefing today after sealing the deal in a telephone conversation this morning with Russian President Dmitri Medvedev.
"That is why – last April in Prague – I stated America's intention to pursue the peace and security of a world without nuclear weapons, a goal that has been embraced by Presidents like John F. Kennedy and Ronald Reagan," he said. "With this agreement, the United States and Russia – the two largest nuclear powers in the world – also send a clear signal that we intend to lead. By upholding our own commitments under the Nuclear Non-Proliferation treaty, we strengthen our global efforts to stop the spread of these weapons, and to ensure that other nations meet their own responsibilities."
---