Britain general election: Is the minority vote, once Labour's, up for grabs?
In Britain's general election scheduled for May 6, minority voters are expected to have a greater impact than ever before. Conservatives are wooing black and Asian voters – once solidy pro-Labour – with policies they say are family- and business-friendly.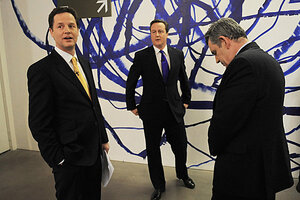 Stefan Rousseau/AP
Fighting for every vote in a British general election campaign that threatens to shatter the age-old hold on power held by the Labour and the Conservative parties, British politicians are now facing another mold-breaking moment – the potentially decisive role of ethnic minority voters.
Amid a sea change in the makeup of Britain's electorate, voter registration among British ethnic minorities is approaching the levels of white voters, while turnout in Asian communities, most immigrants from India and Pakistan, is expected to be well in excess of the national average.
It's a factor that has already seen the Conservative Party launch a major bid – with parallels to the US Republican Party's attempts under George W. Bush to woo Latinos – to win over traditionally Labour-supporting ethnic-minority voters. The Conservatives are emphasizing a commitment to family values that they hope will appeal to minority voters and are touting changes that will make it easier for minorities to start their own businesses.
---