NPT: Obama reveals size of US nuclear weapons arsenal. Will Russia respond?
President Obama's stunning disclosure puts pressure on Russia to reciprocate. But Moscow relies much more heavily on its nuclear weapons arsenal for security and regional power.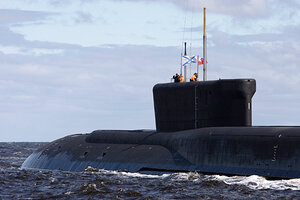 Alexander Zemlianichenko/AP/File
Barack Obama has just spilled the exact number of nuclear weapons the United States deploys around the world – for decades a closely guarded secret.
Russian security analysts say they're impressed with President Obama's disclosure, which puts pressure on Moscow to reciprocate. But don't hold your breath waiting for a Russian response. Because Moscow relies much more heavily on its nuclear arsenal for security and regional influence than the US does, a dramatic announcement is unlikely, analysts in Russia say.
"It's a big PR victory for Obama, and a very strong signal that his talk of a nuclear-weapons-free world is not just empty rhetoric," says Alexander Konovalov, president of the independent Institute for Strategic Assessments in Moscow. "But for Russia it's not so easy to match this step, due to differences in our security doctrine and the role of nuclear weapons in our defenses."
FAS calls on Russia to reciprocate
Ahead of the opening of the Non-Proliferation Treaty (NPT) Review Conference in New York, the Obama administration revealed a US nuclear stockpile of 5,113 nuclear warheads as of September 2009. That includes all active weapons, both strategic and tactical, but not "several thousand" more that are awaiting dismantlement under arms control accords.
---