NPT 101: Why Iran sees nuclear 'hypocrisy'
Iran President Mahmoud Ahmadinejad argued at the NPT Review Conference that the US, the only nation to use a nuclear bomb in war, has not lived up to its promises of nonproliferation. Iran seeks help from the NPT to level the playing field.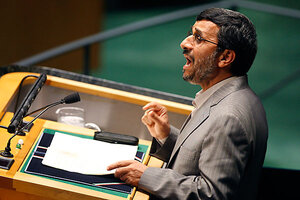 Seth Wenig/AP
The original nuclear-weapons club of five nations remains almost as exclusive as ever, with just nine countries now holding atomic arsenals.
But they are not created equally. And as the nuclear Non-Proliferation Treaty (NPT) is being reviewed during a May 3-28 conference in New York, Iran's steady complaints about "nuclear hypocrisy" have taken hold among many non-nuclear weapons states.
"The possession of nuclear bombs is not a source of pride; it is disgusting and rather shameful," Iran's President Mahmoud Ahmadinejad said in a speech on the conference's opening day. "And even more shameful it the threat to use or to use such weapons, which is not even comparable to any crime committed throughout the history.
Israel is not a signatory to the NPT, Iranians often point out, yet pays no price for its collection of some 200 warheads. India is also not an NPT member and first tested a nuclear explosive in 1974. Yet in 2008 pressure from Washington prompted waiving of a rule that opens India to nuclear trade with few restrictions. The controversial deal "will free up India's limited domestic uranium supplies to be used exclusively for bomb-making," notes a report just released by the Arms Control Association (ACA).
---