UK election 101: What will the Queen do the morning after?
After a typical UK election, the leader of the winning party visits the queen to be anointed Britain's new prime minister. But early indications are this general election returned no outright winner, meaning Queen Elizabeth II could have an expanded role.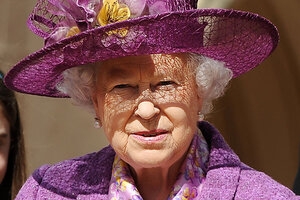 Ben Stansall/AP
Your typical UK election usually yields a clear winning party with an outright majority in parliament.
After a heated election campaign, the leader of the winning party congratulates the losers on putting up a good effort, then heads to Buckingham Palace for tea with the queen, who confirms him or her as the new prime minister of Britain.
But this was no typical election. The British polls closed at 10 p.m. local time (5 pm EST), and early exit polls indicate no outright winner.
Instead, it appears, that Britain now has a "hung parliament." The BBC projected 307 seats for the opposition Conservative Party, 19 seats short of a majority, with the Labour Party of incumbent Prime Minister Gordon Brown dropping to 255 seats. These numbers should be taken with a grain of salt since the final results, not due out for hours, are almost certain to be somewhat different.

---