If British election 2010 results trump popular vote, what next?
If British election 2010 results yield a majority of parliamentary seats for a party that comes in second or even third in the popular vote, could it lead to a change in Britain's centuries-old 'first past the post' electoral system?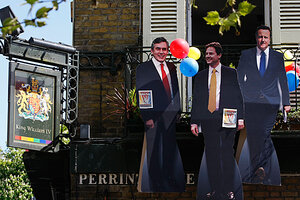 Alastair Grant/AP
British voters taking part in a photo-finish election went to the polls today in what could be the last-ever poll held under a centuries old system if the British election 2010 results are as close as current polls indicate.
With Britain's "first past the post" electoral system under close scrutiny, some here are worried that the ruling Labour party could win the most parliamentary seats even if it comes third in the national popular vote.
"It would be odd, but it can occur," says Professor Cees van der Eijk of the University of Nottingham, who studies political behavior. "When it happened a number of times in a row New Zealand, it generated enough distress and disquiet that the system was changed."

Britain, too, could be on the brink of change.
While most parliamentary systems select MPs based on proportional representation – with each party given a number of seats roughly equal to its proportion of the national vote – British electoral districts operate similarly to those in the United States, in which winners take all.
While that's led to strong parliamentary majorities for winning parties for most of modern UK history – avoiding the often chaotic coalition-building that sometimes hampers efficient governance in countries that use proportional systems such as Israel, Iraq, and Italy – it has limited the influence of smaller parties in national politics.
---