Polish President Lech Kaczynski plane crash likely caused by pilot error
The plane crash that killed Polish President Lech Kaczynski and 96 others was probably caused by pilot error, according to the preliminary findings of a joint Russian-Polish probe.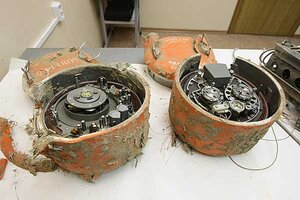 AP
Unauthorized people were in the cockpit and passengers were chatting on cellphones – which can interfere with navigation equipment – as the plane carrying Polish President Lech Kaczynski careened into its disastrous final approach to a Smolensk airfield in heavy fog last month, investigators say.
Preliminary findings of a joint Polish and Russian probe, released Wednesday, suggest that pilot error and irregularities aboard the doomed Tupolev Tu-154 were probably to blame for the crash that killed Mr. Kaczynski, his wife, and 95 others, including dozens of top Polish officials.
Though investigators did not offer final conclusions, they insisted that the aircraft was not brought down by technical failure or "terrorism," which may help to quell some of the Internet speculation that the tragedy might have been a KGB-style assassination of Kaczynski, who was not regarded as a friend of Russia during his time in office.
---