France's National Front: Will Marine Le Pen take the reins?
Founder Jean-Marie Le Pen is silent on who will next lead the National Front party: Marine Le Pen, his populist daughter, or Bruno Gollnisch, his 'purist' right-hand man.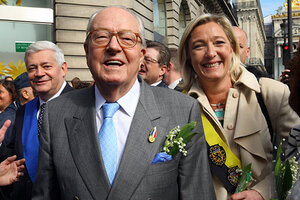 Jacques Brinon/AP
Jean-Marie Le Pen, who heads France's National Front party, has long peppered politics with right-wing bons mots. (Nazi occupation was "not especially inhumane," he once said.) Now his daughter, Marine Le Pen, is showing that she, too, can make headlines.
She called on President Nicolas Sarkozy to step down if implicated in a bribery case dating to 1995. She recently knocked France's racially diverse World Cup soccer team: "I don't see myself represented by this France team."
And after police on June 15 banned a provocative "pork sausage and booze" party that was to be held in a heavily Arab-Muslim quarter of Paris, Ms. Le Pen said, "the French state has capitulated once again."
Succession campaign in full swing
Her higher visibility comes as a National Front succession campaign is in full swing. The senior Le Pen is set to retire as champion of a proud France that, he's long said, is being invaded and cheated by foreign hordes, Brussels bureaucrats, and globalization. He also decries what he calls excessive Jewish influence in the media.
---