Sarkozy's summer of scandals: Is the French president in trouble?
A French prosecutor is now investigating whether Liliane Bettencourt, heiress of the L'Oréal fortune, gave some $190,000 in illegal campaign contributions to French President Nicolas Sarkozy.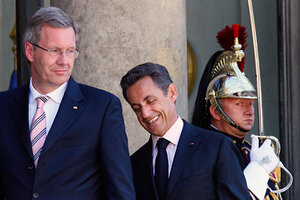 Michel Spingler/AP
A court case scandal involving the world's third-richest woman and her daughter now threatens to engulf France's highest elected official, President Nicolas Sarkozy. Allegations of corruption – as the president's approval ratings slide to a low of 26 percent – come on top of a string of other problems for Sarkozy.
A French prosecutor today said he will probe whether Liliane Bettencourt, heiress of the L'Oréal fortune, gave some $190,000 in illegal contributions to Mr. Sarkozy's 2007 presidential bid. A longtime accountant for Ms. Bettencourt told a French news website she participated in the cash transfer. She alleged Sarkozy took envelopes of cash as a dinner guest at the Bettencourt home two decades ago.
Just last week, Mr. Sarkozy's trusted labor minister Eric Woerth received prominent attention after tapes made by a Bettencourt butler showed possible tax evasion crimes by Bettencourt at a time when Mr. Woerth's wife was a key financial adviser to the 87-year old, whose worth is $20 billion, according to Forbes.
Now suddenly and sharply, early July is proving a nadir for Sarkozy and his high-energy political machine.
So far, little hard evidence has come to light to topple the French president, despite a salivating French press. Even tough critics like Jean-Francois Kahn point to a lack of any smoking guns. Sarkozy is instead seen as beleaguered by a surfeit of small scandals brought on partly by his cultivating of glamour and jet-set friends. But the French media are saying the Bettencourt scandal is becoming the Sarkozy crisis.
---