Vancouver Olympics spending scandal: How much does a Russian breakfast cost?
A report by the Russian parliament's Audit Chamber alleges the sports minister spent 12 times his official limit for hotel expenses and $4,500 on breakfasts during the Vancouver Olympics. His job could be in jeopardy.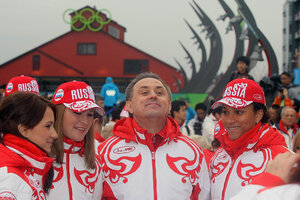 Vitaly Belousov/Photo ITAR-TASS/Newscom
There is a rising clamor in Russia for the head of Sports Minister Vitaly Mutko, who has been accused of squandering taxpayer's money while the country's Vancouver Olympics team went down to defeat last winter in Vancouver.
Mr. Mutko, who was rated as Russia's second-most unpopular government minister in a recent poll, says he won't quit over a report by the parliament's Audit Chamber that alleges he spent 12 times his official limit for hotel expenses during the Vancouver Games, or a whopping $32,400 over 20 days.
During the same time, the report says, Russian taxpayers forked over $4,500 for his breakfasts alone.
Mutko says the allegations are baseless, and that he was just following the same standards as government officials the world over.
"Why do those who want to accuse me of something not interest themselves in how much the French sports minister paid for accommodation?" Mutko told the Moscow daily Vedemosti.
'Direct violations'
But the new chief of Russia's Olympic Committee, Deputy Prime Minister Alexander Zhukov, says the report will be acted upon. "There are direct financial violations. This will be a subject matter for scrutiny by the law enforcement agencies in the future," he told the official ITAR-Tass agency.
---
Follow Stories Like This
Get the Monitor stories you care about delivered to your inbox.