Vancouver Olympics: Embarrassed Russia looks to 2014 Sochi Olympics
Russia's dismal showing at the Vancouver Olympics may be the least of the Kremlin's worries as allegations of corruption mar preparations for the 2014 Sochi Olympics.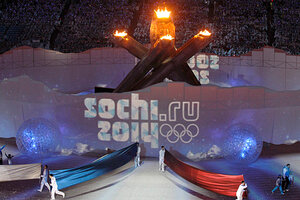 Lucy Nicholson/REUTERS
The Vancouver Olympics are over and the torch now passes to Sochi, the subtropical Soviet-era seaside resort town that may be the most unlikely venue ever designated to host a major winter sporting event.
The Kremlin, which has invested $17 billion in a breakneck program to get the sleepy and remote coastal town ready to host the 2014 Games, had clearly hoped the spotlight would shift from Vancouver to Sochi amid the warm glow of Russian athletic triumph.
But, instead, Team Russia turned in the country's worst Olympic performance ever, finishing in sixth place, with a total of 15 medals, just three of them gold. By comparison, the Russian winter athletes at Turin in 2006 brought home 22 medals, including eight golds.
PHOTO GALLERY: Top inspiring Olympic moments
Olympic fallout
That historic failure has triggered an outpouring of bitterness and recrimination, extending from the streets to the upper echelons of power, and seems bound to intensify scrutiny of the deeply troubled preparations for the upcoming Sochi Winter Olympics.
---