Northern Ireland riots raise worries about 'bad old days'
Northern Ireland riots continued for a fourth night Wednesday. While violence has been on the wane, protests erupted in Belfast after a Protestant march went through the republican Ardoyne area.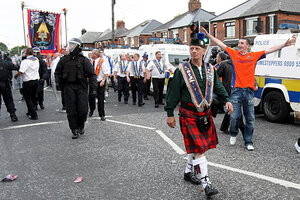 AP
Four consecutive nights of rioting in Belfast have left many asking why Northern Ireland's "bad old days" have returned.
The Northern Ireland peace process has always been a roller coaster ride, even if it is one whose peaks and troughs can crest and fall at a slow pace.
But the month of July is often simultaneously tedious and terrifying as it represents the height of the so-called marching season, a roughly six-month period in which the ultraconservative and pro-British Protestant fraternal organization, the Orange Order, takes to the streets to celebrate the ascension of William of Orange to the British throne in 1690. The marchers enter areas where the local residents are Irish republicans who don't want them there.
In past years, contentious marches through areas such as Belfast's Ormeau Road and the Garvaghy Road in Portadown made headlines around the world as angry standoffs between Orangemen and residents descended into violence, even death. But the past decade has seen a gradual lessening of tension, and while residents and marchers are no closer to seeing eye to eye, violence has been waning – until now.
On July 11, violence erupted in Belfast when a march was forced through the republican Ardoyne area of north Belfast. Gasoline bombs, paint bombs, and bricks and other projectiles were thrown at police. Three police officers were injured when a masked man opened fire with a shotgun.
This year was the first in which Belfast took over control of local policing and justice from London. At least 27 police officers have been injured so far, and one endured injuries described as "serious" after being struck with a concrete block.
---