In ruling on artistic expression, some Russians see signs of broader crackdown
A Moscow court's ruling that curbs artistic expression, as well as fresh legislation to strengthen the KGB's successor and limit rights of public assembly, appear to some Russians to presage a broader crackdown.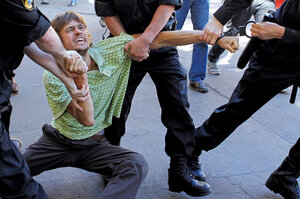 Denis Sinyakov/Reuters
Russians are enjoying freer private lives than ever before. Russia appears to have weathered the global financial crisis, and unemployment and poverty rates are relatively low.
But some see a shadow approaching.
A court case that curbs artistic expression, and fresh legislation to strengthen the KGB's successor and limit the right of public assembly, have some anticipating a crackdown on freedom.
The "government appears to be preparing itself to deal with large-scale public protests," says Nikolai Petrov, with the Carnegie Center in Moscow. "It may not look like it on the surface, but there is a feeling that bad times are coming. The mechanisms are being put in place now to ensure that any social tensions or dissent within the elite can be quashed."
Critics warn that the social contract created by former President Vladimir Putin – in which the Kremlin redistributed oil revenues via social programs in exchange for silence and political consent – is fraying.
---
Follow Stories Like This
Get the Monitor stories you care about delivered to your inbox.