Tour de France Stage 16: Lance Armstrong attacks, just misses win
In Stage 16 of the Tour de France today, Lance Armstrong attacked on the final climb – dusting the two men vying for the overall win, Alberto Contador and Andy Schleck, by nearly seven minutes.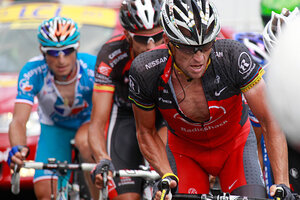 Jacky Naegelen/Reuters
Lance Armstrong made the most of what may be a final attempt at glory in today's Stage 16 of the Tour de France.
With all eyes fixated on Monday's incident between Alberto Contador and rival Andy Schleck, Armstrong powered a breakaway during the mountainous Stage 16 from Bagnères-de-Luchon to Pau.
But he couldn't create a storybook ending; Frenchman Pierrick Fedrigo won a sprint finish among the breakaway riders. It was France's sixth Tour win this year – its most since 1997.
IN PICTURES: Scenes from the 2010 Tour de France
"[The sprint] was harder than I expected," Armstrong admitted to reporters, says he was "just not quick enough."
Saving his legs
According to RadioShack manager Johan Bruyneel, the Texan had tried to conserve energy for today's attack by riding more slowly over the weekend.
Over the first two Pyrénéan mountain stages, he lost almost 15 minutes of time.
"That was definitely on purpose," Bruyneel told the Associated Press. RadioShack is now tied for the lead in team standings, with Armstrong's teammate Christopher Horner – who stuck with him to the finish today – climbing to 14th overall.
---