Tour de France: Will Contador pay for his breach of cycling's unwritten rules?
Tour de France Stage 15: Alberto Contador won the yellow but some say he committed a breach of race etiquette by attacking in the last climb of Stage 15 just as race leader Andy Schleck's chain popped off.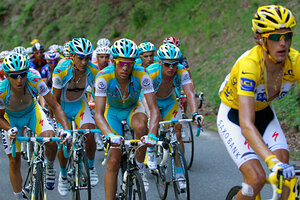 Bas Czerwinski/AP
Defending Tour de France champion Alberto Contador stirred controversy Monday when he attacked the final climb of Stage 15 just as race leader Andy Schleck's chain popped off.
But why? As Lance Armstrong's team director Johan Bruyneel put it, it was just a smart move.
"You can't say to Contador, 'Hey, wait for Andy,'" he told reporters. "There's no gifts in this race."
IN PICTURES: Scenes from the 2010 Tour de France
But to others in the tight-knit professional cycling community, Contador – whose attack moved him into the overall race lead – committed a grave breach of the sport's unwritten rules of etiquette.
"Contador just gained a great chance to win, but he lost the chance to win greatly," tweeted Cervélo TestTeam owner Gerard Vroomen.
The rules, from sunglasses style to tactical savvy
Here's a primer of cycling's rules of the road for newcomers.
Style counts: Sunglasses go outside the helmet straps; wearing yellow is usually reserved for the Tour de France; and if you win a stage, zip up your jersey to give your sponsor's logo some TV time.
Tactical savvy is also essential knowledge: Follow the wheel in front of you to avoid crashes; pull your weight on breakaways.
And if a rival is beset by misfortune, like a mechanical problem or a crash, wait for him to get back on the bike. When the race leader has to use the bathroom, everyone slows down.
---