Germany's love-hate relationship with Google Street View
Thousands of Germans have reportedly requested their homes be removed from Google Street View. Millions more, however, are already avidly using the program.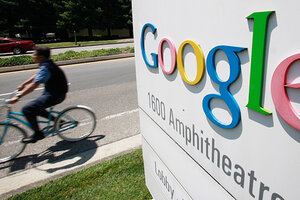 Paul Sakuma/AP
Allow Google to take a picture of your house. Or prepare to be wiped off the face of the map, indefinitely.
That's the option the California company is presenting to Germans as it prepares to launch its Street View interactive mapping program in November for the European nation's 20 biggest cities.
After years of wrangling between the search engine giant and the German government over privacy concerns, Google is allowing Germans to opt out of Street View by requesting that their home or property be "blurred" on the map. The blurring process corrupts raw data, meaning that a home cannot be un-blurred until next time one of Google's camera-equipped vehicles rolls around town.
"Once a person in Germany requests that their home be blurred, it is blurred permanently, even if a request is made to un-blur it. There are currently no plans to refresh the imagery," says Google spokesperson Kate Hurowitz.
Germany's 'unconscious fear'
To be sure, citizens of all 23 countries where Street View is available can at any time have their homes blurred, but Germany has been the map's most vocal opponent. Only Germans have been given the option to opt out of Street View before it appears online, and only German homes are permanently blurred.
---