Nobel Peace Prize 2010: How Obama award shapes this year's choice
After giving the Nobel Peace Prize to President Obama last year, the Norwegian Peace Prize Committee may opt for a more conventional winner this Friday.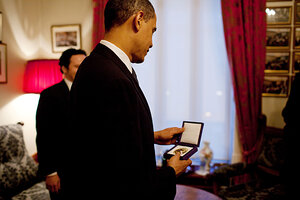 Official White House Photo by Pete Souza
The Norwegian Peace Prize committee has a dilemma this year: how to top last year's surprise award to President Obama.
The prize aroused criticism for being awarded just nine months into Mr. Obama's presidential term and while the US was heavily engaged in two military campaigns in Afghanistan and Iraq. The committee granted him the prize for his "extraordinary efforts to strengthen international diplomacy and cooperation between peoples."
The controversial selection will probably compel the committee go for a more traditional choice on Friday – such as human rights campaigner or pro-democracy organization – which could have an impact on the political process, according to Kristian Berg Harpviken, director at the Peace Research Institute Oslo.
RELATED: Mario Vargas Llosa wins 2010 Nobel Prize for Literature. Who else won in the past decade?
"In some ways it has put them in a dilemma," says Mr. Harpviken. "They have to be attentive to the risk of how a similar prize that presents criticism would affect the reputation of the prize."
"It doesn't necessarily suggest a safer candidate that demands worldwide consensus, but a candidate that more likely represents what the Nobel Peace Prize represents," he says.
---