Why Sweden's far-right, anti-immigrant party made powerful gains
Sweden is now facing a newly powerful political party, the Sweden Democrats, that has a neo-Nazi past and advocates drastically cutting the country's liberal immigration policies.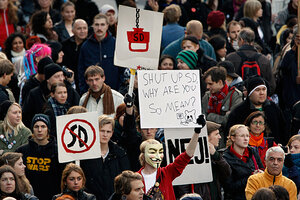 Bob Strong/Reuters
Throughout much of Europe, the far right is on the rise, gaining support with a message against the political establishment, multiculturalism, and immigration that appears to be resonating with many disillusioned Europeans.
In liberal Sweden, the far-right Sweden Democrats, a party with a neo-Nazi history, won 20 seats in the Sept. 19 parliamentary vote, enough support to leave the leading center-right coalition without a governing majority. While the SD, which campaigned that it would cut immigration rates by 90 percent, is widely castigated as "racist" and "Islamaphobic," it nonetheless struck a deep chord among some in this country known for its political correctness.
Europe's far-right parties comprise "an outcry of people that felt they were forgotten by the mainstream," says Cristian Norocel, a political scientist at both Stockholm University and Finland's University of Helsinki.
In Denmark, the Netherlands, Hungary, and Switzerland, far-right populist parties have similarly gained new footing, exercising their political capital to advocate anti-immigration platforms, and often focusing on Muslims, tougher stances on law and order. Their steady rise comes as much of the Continent is mired in recession, governments having made deep cuts in social programs and threatening more to come.
---