More turf wars for Japan after Russia's Medvedev visits disputed Kuril Islands
Russian President Dmitry Medvedev visited the Kuril Islands Monday, ruffling Japan, which also claims what it calls the Northern Territories. Japan has recently sparred with China over disputed islands.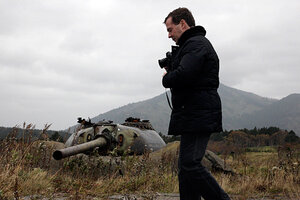 Mikhail Klimentyev/Kremlin/Ria Novosti/Reuters
President Dmitry Medvedev has triggered a huge diplomatic flap with Japan, with whom Russia is still officially at war. He ruffled Japan by staging a visit Monday to the disputed Southern Kuril Islands, four tiny specks of land seized by the Red Army in 1945 and claimed by Japan as its own "Northern Territories."
Japanese Prime Minister Naoto Kan told parliament Monday that Mr. Medvedev's decision to become the first Soviet or Russian leader to set foot on land Japan regards as its own was "extremely regrettable." Foreign Minister Seiji Maehara said the visit "hurts our national sentiment," and called in the Russian ambassador to Tokyo to deliver an official note of protest.
Russian Foreign Minister Sergei Lavrov slammed back, telling journalists that the Japanese reaction to Medvedev's visit was "unacceptable," adding, "this is our land and the Russian president visited Russian land. It's an entirely domestic matter."
---