Parcel bombs in Athens appear to be Greek anarchists' calling cards
Security experts say that parcel bombings sent to embassies across Athens on Monday and Tuesday have all the hallmarks of anarchist groups looking to make a 'symbolic gesture.'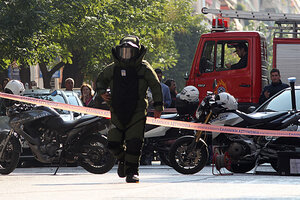 Petros Giannakouris/AP
A two-day barrage of parcel bombings targeting embassies in Athens bears the hallmarks of anarchist groups in Greece that may have used the attacks to draw international support for their revolutionary cause.
Police have declined to say officially whom they suspect in the attacks, other than it is likely a local anarchist group unconnected to mail bombs from Yemen attributed to Al Qaeda in the Arabian Peninsula. One of the suspects taken into custody Monday has been identified as a member of the Conspiracy of the Cells (or nuclei) of Fire, referred to as SPF, which is among a number of anarchist groups that have surfaced in the past several years.
"SPF has a track record of international actions," says Brady Kiesling, a former American diplomat and expert on Greek terrorism. "It is definitely an anarchist group looking for a symbolic gesture."
Security experts say they have recently noticed an uptick in Internet chatter among anarchist groups looking to make a statement about the economic crisis in Greece and Europe, and to strike out against countries where anarchists are currently imprisoned. They say that could explain the selection of embassies that were targeted since Monday.
"These letter bombs were not strong enough to kill anyone," says Mary Bossis, a terrorism expert at the University of Piraeus. "But they were strong enough to send a message around the world."
There were no injuries in the explosions at the Swiss and Russian embassies on Tuesday, and police were able to intercept and detonate parcel bombs addressed to the Bulgarian, Chilean, and German embassies.
---