After Khodorkovsky verdict, Russia's Medvedev bemoans business climate
President Medvedev admits Russia's investment climate is woeful days after oil tycoon Mikhail Khodorkovsky was convicted of embezzlement in a politically tinged trial.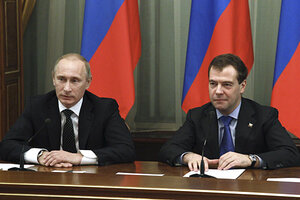 Vladimir Rodionov/Kremlin/Reuters
The second conviction of Russian oil tycoon Mikhail Khodorkovsky and his business partner Platon Lebedev has produced a storm of international criticism.
But it also represents a potential setback for President Dmitry Medvedev, who is widely seen as vying with Prime Minister Vladimir Putin to become the favored presidential candidate in 2012 elections.
Mr. Medvedev promised a "war on corruption" a year ago and has said making it easier for business to invest and expand is at the top of his priorities.
A running theory in Moscow was that Medvedev, eager to show that the rule of law prevails in Russia, was uncomfortable with the second prosecution of Mr. Khodorkovsky, whose legal troubles began in 2003 when he openly challenged then-President Putin's increasingly authoritarian rule.
Ahead of the verdict, Russia analysts argued that an acquittal would show that Medvedev had prevailed, while a conviction would show that Mr. Putin – who already served two terms as president, from 2000-08 – remains Russia's real power and is likely to return to the presidency in 2012.
---