China lends a hand as Spain climbs from economic doldrums
Chinese Vice Premier Li Keqiang arrived in Spain today for a visit that could add an economic boost as the country sees unemployment fall and appears on target to reduce its deficit.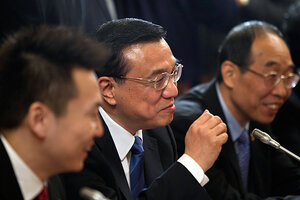 Paul White/AP
Spanish officials Tuesday claimed the worst of the country's economic crisis could be over as China's vice premier arrived for an official visit that has raised expectations of big business deals and more support for Spain's treasury.
Spain has recently become the focus of investor concern over whether Europe's fourth largest economy could be headed for a bailout, which would frustrate the global economic recovery.
But a flurry of recent data suggests that Spain's severe austerity policies are working, albeit with much pain remaining ahead.
RELATED: Europe's 5 most generous pension systems
Prime Minister José Luis Rodríguez Zapatero said Tuesday that Spain would not only meet its 2010 target of reducing its deficit to 9.3 percent of its gross domestic product (GDP) from 11.2 percent in 2009, but that the figure would be in fact "a little better" than expected. He also restated the country would meet the 2011 target cutting the deficit to 6 percent of the GDP.
---